The Quebec Education Program (Q.E.P.) divides elementary education into three two-year cycles. This organizational model takes into account the need for a long-term approach in developing competencies. It corresponds better to the students' learning rate and permits more differentiated teaching practices.
The Q.E.P. is designed as a system with three integrating elements: subject areas, broad areas of learning and cross-curricular competencies. Its structure is intended to facilitate the establishment of connections among the different educational components.
Within the Elementary Education Program, there are 14 programs (courses) of study organized into the following six subject areas:
Languages
Mathematics
Science and Technology
Arts Education
Personal Development
Social Sciences
The broad areas of learning help students relate subject-specific knowledges to their daily concerns and thus give them a better grasp of reality. There are five broad areas of learning in the Québec Education Program:
Health and Well Being
Personal and Career Planning
Environmental Awareness and Consumer Rights and Responsabilities
Media Literacy
Citizenship and Community Life
Cross-curricular competencies represent goals that are common to the whole curriculum. They apply to all the broad areas of learning and are also closely linked to the subject areas. The Q.E.P. containes nine cross-curricular competencies grouped into four categories:
Intellectual: To use information to solve problems, to exercise critical judgment and to use creativity.
Methodological: To adopt effective work methods, to use information and communications technologies.
Personal and Social: To construct his/her identity and to cooperate with others.
Communication: To communicate appropriately with others.
Comprehensive Bilingual Program
All elementary schools across the English Montreal School Board offer various levels of French language instruction integrated within the Québec Education Program.
Students attending St. Dorothy Elementary follow a bilingual curriculum model. Starting in Kindergarten, students are speak and learn French during 50% of their classroom time. This encourages the growth and understanding of a second language during the most important learning years of life.
Grades 1 through 6 continue to dedicate 50% of class time to French language instruction. Along with French Language Arts; Geography, History, Music, and Mathematics.
Academic Support
Resource Teachers
Resource Teachers provide assistance to students who need extra help in English, as well as in French. Teachers collaborate to include students with special needs in the regular classes.
Balanced Literacy Program
Teachers work with small, guided reading groups comprised of students with the same instructional needs.
Online Tutoring and Homework Help
All students and families have access to LEARN (Leading English Education and Resource Network) which provides e-learning resources and academic support, online tutoring and homework help for all grade levels. A username and password is provided by the school to each student.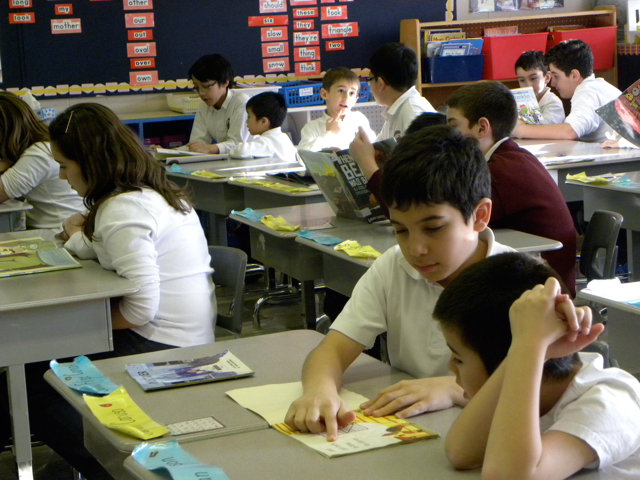 MELS Publications